Columbus Day Italian Parade
& High School Marching Band Competition
Sunday, October 8th, 2017
1:00 p.m.

2017 Grand Marshal: Derek Grosso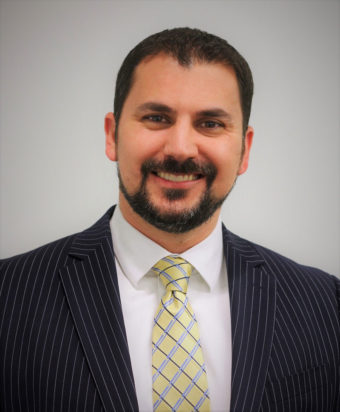 President, CEO, and Founder of Columbus Young Professionals Club (CYP Club)
Born and raised in New York, Derek Grosso studied entrepreneurship and small business management at The George Washington University in Washington. Upon graduation, he was named "Entrepreneur of the Year" in 2001 by the GW School of Business.
Derek was named one of Columbus Alive's "People to Watch" in 2009, he was honored as "Best Community Leader" by Columbus C.E.O Magazine in 2010 and 2011, and was the recipient of the Columbus Chamber's Small Business Leader Award for 2011. In 2014, Derek was honored to be part of the inaugural class of "Smart 50" leaders recognized by Smart Business Magazine.
The Columbus Piave Club recognizes Derek for his dedicated service to Columbus and celebrate his Italian family heritage by naming him as Grand Marshal of the Columbus Day Italian Parade & High School Marching Band Competition.
Please join us and celebrate on Sunday, October 8th at 1:00 p.m. as the parade weaves through Victorian Village, Short North, and Italian Village.
Celebrate Columbus. Celebrate Italian. Celebrate Columbus Italian pride by marching or watching the family friendly Columbus Day Italian Parade & High School Marching Bands Competition! The parade that makes Mona Lisa smile.
Columbus Day Italian Parade Participant's Instructions
Parade Route
From Line-up on Dennison Avenue, East on Buttles Ave, North on High Street, to East on Warren Ave to end at 4th Street.
Line-up Information
Parade Line-Up: begins at 11:00 a.m. on Dennison Ave. (west of Goodale Park).
Parade Starts at 1:00 p.m.
Band Members are to be dropped off on Buttles Ave & Dennison Ave's. (north side of Goodale Park.
At the end of the parade, all marching bands will be directed to the Carfagna Stage (big tent) for the continuation of the competition.
Some Parade Marching Directions
Cars – All Vehicles
that will be IN the parade should enter the Dennison Avenue line-up area from Poplar Avenue, on East side of Neil Avenue (660 Neil Ave). You will be greeted by Team Meatball Ground Crew and given a line-up location number. 
Those with vehicles who wish to park and attend festival, we will once again attempt to have parking reserved in "Jefferies Place" area for you.
Walkers and VIP's are welcome to enter line-up area from Buttles or Poplar or Collins for a line-up location number.
Marching band competition
All High School Marching Bands will be stopped on High Street for a stationary performance of up to five minutes.  You may face either East or West, or both.  It will be up to the Band Director to make that sure that the performance stays under five minutes.
When the bands stop to perform, the whole parade will stop in place.
Registration
Registrations taken through October 8th
All entries must submit a registration form.
Click to Download Parade Application
Entry Fees
There is no entry fee for non-political entries.
$100 fee for Politicians and Political Issues.
Information & Contact
For more information and a parade blog: www.Facebook.com/ColumbusItalianParade
John Contino
Parade Chairman
phone: 614-214-8473
email: jcontino@insight.rr.com
Deb Roberts
Executive Parade Coordinator
phone: 614-228-1868
email: mzdoodah@gmail.com